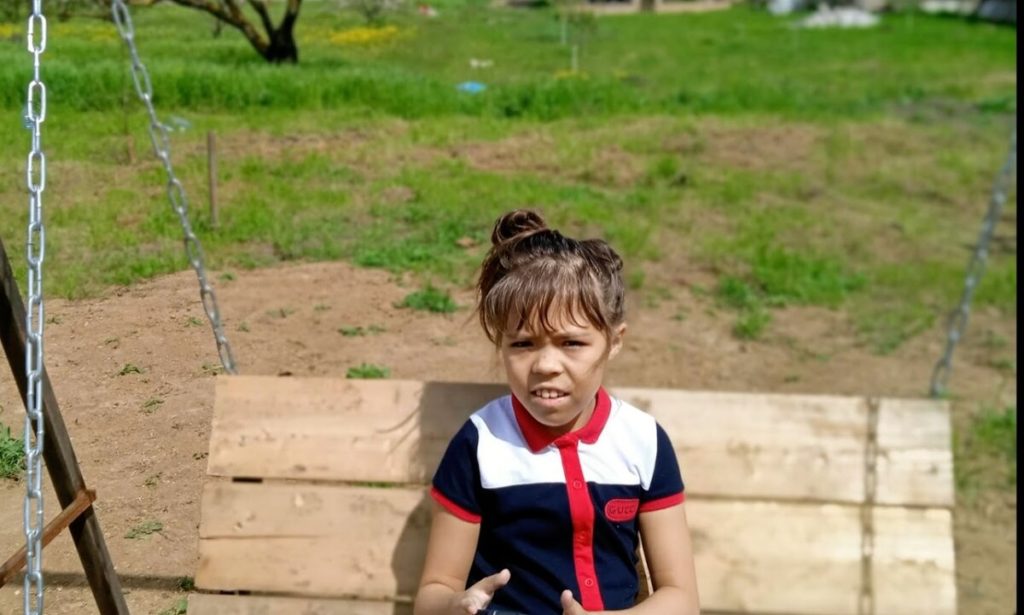 I noticed that any changes in the usual reality have a positive effect on its development. Apparently, the effect of adaptation affects when the brain has to work in new conditions. After our first move (from Surgut to Anapa), Alice had a very good leap in development. This time there is also a positive effect.
And it is very unexpected that this effect has affected nutrition. Alice's diet is not full of variety, it is extremely difficult to persuade her to try a new food. Over the past four months, her diet has been replenished with new products. So, for example, she started eating sausages. For us, this is a big breakthrough already because it is a new product, that she has not just tried it, but also eats without experiencing vomiting. It has become easier to negotiate with her, she clearly understands what "first" and "then" are. That's how it turned out to introduce a new product. Alice loves cornflakes (without sugar) with salt. I caught her at a time when she was hungry and offered to eat a quarter of a sausage circle first, then to get cereal. Alice agreed. Of course, she sat for a long time and mentally prepared for this. She brought a fork with a sausage to her mouth, touched her lips with it, moved her hand to her throat, as if she was already swallowing it. In general, I was thoroughly tuned. As a result, she ate this piece and got her favorite cereal. The next day she had to eat half a circle and so slowly we reached the whole sausage.
It may seem to someone that eating a sausage is not the best reason for joy, but considering that the process took place calmly, without pressure from my side and without screams and tears from my daughter, this is a great success for us! After all, it is from such trifles that further achievements are formed.
In addition to sausages, the diet of soups has expanded. She used to eat them, of course, but now she does not need to be persuaded for every spoonful, she calmly eats a plate of soup herself.
She became more compliant and began to understand more. She became more patient, if earlier during the break between classes she had to be entertained with something, now she can sit and wait.
As far as I can tell, there has been a shift in the development of the volitional sphere. If earlier she did not want to do something, but it was necessary to do it, she would fall into hysterics, proving that she would not do anything. Now she can be persuaded, explain what is necessary, for example, to work out and even if she does not want to, she will go to class. Example. Not so long ago we went on an intensive visit to a wonderful center (I will tell you for sure). One day we had a break between classes. I assumed that we would not be able to return to classes after the break, because we had already left, that's it, the end. Of course, I explained to Alice that we would be back, that she had another lesson ahead of her, but I didn't believe that it would work out. To my surprise, everything worked out. Naturally, Alice was not happy that we returned, she even started crying, but I didn't have to carry her, she reached by herself and calmed down pretty quickly in class. It struck me, because this is a great progress.
There are not the most pleasant innovations. Alice started pissing in bed at night. Not every day, but the fact itself is not very. Most likely this is due to the fact that now she sleeps with her grandmother and when she starts to wake up at night in need, she puts her to bed. Of course, not by force, just pats on the back, hugs, but without really waking up, Alice falls asleep soundly and pisses in bed. Grandma is worried that Alice will wake up and will not fall asleep all night, it should be noted that the fears are not in vain, Alice's night vigils happen. When we understood why night floods occur, Grandma stopped lulling her to sleep, and instead walked her to the toilet. I really hope that everything will stop with Alice moving to her room. By the way, her move will accompany a new stage in her life, sleeping without her mother or grandmother. In the apartment, she fell asleep only with me, and then I went to the bedroom, at night Alice woke up and came for me and the rest of the night I slept with her. So now, we will work to ensure that she falls asleep on her own and sleeps all night.
Thank you very much for your attention to our stories, for your questions and kind words! I hug everyone tightly!