First time in first class. An autistic child and the school.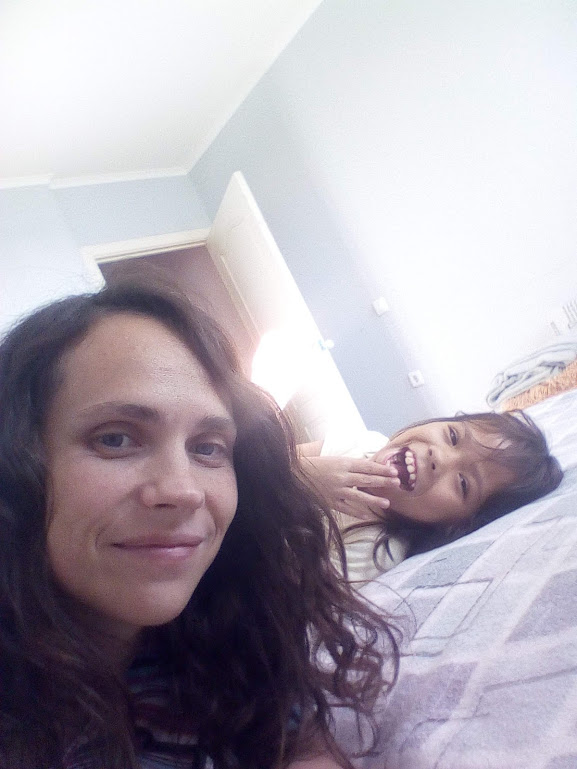 It seemed to me that there was still so much time ahead, but September came unexpectedly quickly. Probably, I still have the feeling that school time comes in the fall, when the sky is already dripping with a fine drizzle, the wind makes its way under any jackets, and the foliage actively leaves the branches of trees. In Anapa, September is a full-fledged summer month, not much different from August, except that there are noticeably fewer tourists. Children go to school in socks and short-sleeve shirts. How can you even go to school in this weather?!
I took the documents to our educational institution back in February. You can read about how I chose the school here.
Due to the difficult epidemiological situation, the holiday line was held only for the first and ninth grades (Yes, Yes, that's right, in the singular, we have one first and one ninth grade). On August 31, the class teacher warned us by phone that we should arrive by 8.30, so that the medic would check all our certificates and Alice would be allowed to attend classes. At 11, a small twenty-minute line was planned, after which the children were promised to be fed and released. It seems that everything is simple and clear. But it didn't work out this morning.
The boarding school that Alice entered is located at a distance of about 30 kilometers from our house, in the village of Suvorovocherkessk. Usually, we reach it in 25-30 minutes, but I didn't take into account that we never went there in the morning. Surprise, but at 8 am there were a lot of people who wanted to ride in this direction. As a result, we drove in an anxious state, worried that we would be late on the first day. My second mistake was that we went together (me, my husband and my daughter). Before that, we went to school together, in my car, and with my dad in his car, we usually went to the sea, to visit, to travel and other pleasant places. When we arrived, it was 8.27, and we were right in time. I persuaded Alice to get out of the car, but it turned out that an inspection point was waiting for us in front of the gate. Several Cossacks closely followed the order, a medic immediately rushed to us to measure the temperature with a non-contact thermometer, someone tried to enter us in the lists, someone decided to help us get to the medic. I was stunned by the attention, Alice even more so. An attempt to measure the temperature led to the fact that she completely fell apart, balked and roared. Considering that before the first day, she passed a bunch of tests (since I sent her to a boarding school where children live from Monday to Friday, and on weekends they go home, the requirements for medical indications and test results are very serious), she was afraid that she would be taken blood again. If you consider that the touch of strangers, she also does not tolerate very well, you can understand why she was upset and lost all desire to stay here. After taking our temperature in half, finding us on some lists and writing us in others, we were allowed to enter the school grounds. There I was handed a package of papers that needed to be filled out, then they started accepting and checking certificates, in General, there was a lot of attention, people too, and Alice spat on everything and rushed to the car to dad. After sorting out the documents, I found our class teacher to get acquainted and find out what awaits us next, what program. And then the children were waiting for a tour of the school, then a ruler and a class hour. Parents were only allowed to attend the line-up. Alice, meanwhile, did not want to calm down, dad got tired of watching the baby cry and put her in the car. I realized that if we drag her to school now, she won't get any pleasure at all. So I asked if we could skip part of the program and come back when the fuss calmed down a little and having received the blessing to come straight to the line, we went home.
On the way back, I had some very unpleasant thoughts. I was thinking about the option of home schooling or a private class for special children, which is available in Anapa in the center "Sofia". I had a cowardly idea to go back to kindergarten, and I remembered with longing how my daughter liked it there and what a wonderful team of specialists and parents we had. In the end, my husband and I consoled ourselves with the thought that it is always difficult at first, and if Alice does not work out at school, we will leave for home schooling.
After 40 minutes of staying at home, we went back to school, just the two of us, and dad stayed home to cheer for us. This time we were met only by a medic, she allowed me to take Alice's temperature herself and, after making sure that the child and mother were healthy, we were allowed to enter the territory of the temple of knowledge. Since this time I was in no hurry, we were late for the line and got to the photo shoot. We took photos with the graduates and went to class. There Alice, suddenly for me, was given a briefcase in honor of the beginning of educational activities and quickly threw me out. For about an hour, I sat on the couch and waited for her to be released. At first I sat in front of the office, listening for signs of her crying or rushing home, but it was quiet and, afraid that if she came out and saw me, it would be difficult to get her to class a second time, I went to the hall.
I looked at the children who came after the holidays, how happy they were greeted by teachers, how they laugh and chat cheerfully. I realized that I like the atmosphere here. Children are treated with sincere sympathy, but strictly follow the rules. Of course, these are only first impressions, we'll see what happens next, but so far I have not regretted that I chose this school.
While I waited, I heard first-graders being taken outside for recess (this is a common practice here, the weather is very good) and I praised myself that I didn't stay on guard at the office. After about 40 minutes, the children were taken to the hall and led upstairs (it took me a while to realize that they were being taken to rooms where they would live for a week). At that moment, they reminded me of little chickens huddled around a mother hen. Alice I took home, and her classmates in the number of two boys went to develop their new housing. At this moment, I wanted to take them too, so sorry for them became small, scared, everything around new and unknown, and would have hugged. I remembered what my son was like at that age, how he cried when we walked him to school in the morning, and I almost burst into tears myself. The boys were much better than me, clutching their bags, they followed the teacher (I don't know yet what the correct name is for the position of a specialist who looks after children at a boarding school, so I have a teacher) and did not shed a single tear. The tutor is a very affectionate woman, and led them upstairs, and my Alice, if I had not taken her, would have followed her quietly, or at least she walked quite calmly.
My husband and I then spent the whole evening thinking about my daughter's classmates, how they were getting used to a new place without their parents, probably missing home. But these are just our thoughts and experiences. Children are brought to this school not only from Anapa, but also from nearby villages and cities, for example, from Gelendzhik, where there are no such institutions. It happens that every day to spend on the road to school and back for several hours is not possible, but there are many different reasons why children stay at school for a week, the main thing is that the attitude to children there is very good.
There are three students in the first grade, two boys and my girl. Each child has their own individual program and I will write about how the learning process is organized next time when I understand it in more detail.
From the first of September, there were two impressions, from complete hopelessness and despair to confidence that everything will be fine. Having settled on the latter, we begin a new Chapter in the life of Alice and our family.
Good luck to all students, parents, patience and understanding!