How we treated Alice's teeth under anesthesia. Part one.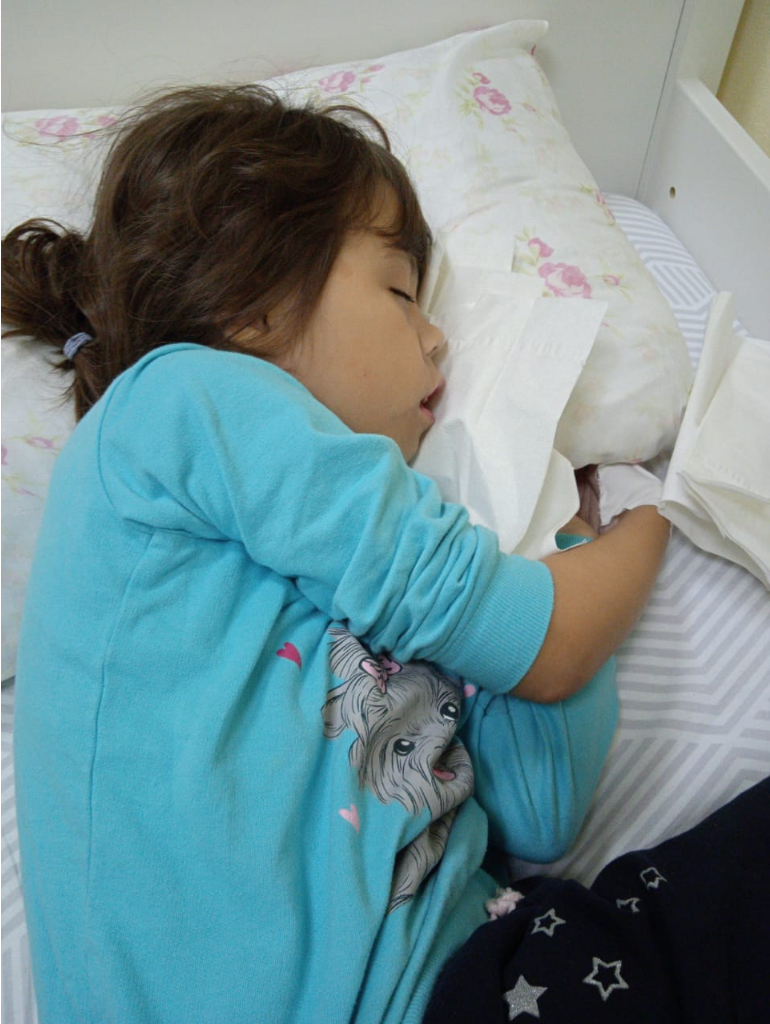 Good day to all! When I finished writing an article about how we treated Alice's teeth under sedation, I found that it turned out to be 2 pages of text, so I divide the story into two parts.
I will say right away that I think, if possible, it is better to do without anesthesia. In our case, we couldn't. When I put Alice on the gluten-free and case-free diet (it was not easy and I wrote about it here), she began to change her teeth. Indigenous people began to displace dairy ones. I will not say that it is 100% due to the diet, perhaps it just coincided. Although, given that at that time we also fed her well with vitamins (everything is strictly prescribed and under the supervision of a doctor, I never advise anyone to drink vitamins at random), then perhaps it was not without the influence of the diet. The point is that the indigenous ones climbed, and not all the dairy ones fell out. Some of her baby teeth were worn off and the molars were covered with a second row. It is not yet possible to brush our teeth well, the upper front teeth are more or less good, the lower front teeth are at least slightly better. If the brush gets deeper, then it begins to gag. For us, it was already an achievement that the front teeth can be cleaned, it was also not immediately possible.
At the dentist's appointment, a rare specialist managed to look into Alice's mouth. Usually (especially if it is a professional examination), she was not even put in a chair, but simply wrote that everything was fine. Recently, my daughter has made great progress in terms of examining her by doctors. We realized that we should try to do something with our teeth.
Found a dentist who treats teeth of children under sedation (it is believed that this is the Lite version, I won't go into this concept as the medical education I have and I think that this is not the right). In Anapa, we do not treat children's teeth under sedation, so we went to Novorossiysk. To my joyous surprise, Alice sat down in a chair, though she was on my lap. I even managed to conduct a quick examination to understand what should be treated and what should be removed. We have a disastrous luck with doctors. I don't know what it has to do with, but it is. I have written about this many times and may even have tired you with it, but I can't help it, I like to talk about good people. This time was no exception, our dentist was a wonderful Elena Vladislavovna. Not only did she manage to win over Alice, very quickly and, most importantly, efficiently, to conduct an examination, she also very clearly and in detail told how the procedure would take place. All the time that we were preparing for treatment, she was in touch with us and not only advised, but also very supportive.
So, learn more about the process.
Preparation.
Since sedation is still anesthesia, it is impossible to do it from the bay-flounder. We had to do an ECG, a general blood test, and get the conclusions of a neurologist and a pediatrician.
I wrote about how we did the ECG in the last article. In short, we invited the nurse home, prepared carefully, and everything went just fine.
We went to a paid clinic to see a neurologist, because in our municipal polyclinic, an appointment with a neurologist takes 2 weeks, and we had to go quickly. The neurologist remembered us, a year ago we passed her examination before the PMPC, was pleased with our success and sent us for an EEG. Without hesitation, we immediately went and made an EEG. It didn't go as smoothly here as with the ECG, but overall it was also good. With the results, we returned to the neurologist and received the conclusion that anesthesia of the daughter is not contraindicated. The next morning, we stopped by and did an express blood test and went to the pediatrician with the result. With a pediatrician in our municipal polyclinic, it is somewhat easier, and we went there. Here we were waiting for another good luck, Alice gave herself to listen, and even showed her throat. For this, we should thank our grandmother, who made it a rule to let Alice listen to herself with a stethoscope and listen to her every time she measures her blood pressure. So, we had all the results and I sent them to our dentist, she in turn shared them with the anesthesiologist-resuscitator and we were allowed to come.
There is a very important feature, before anesthesia, you can not eat and drink. In the memo that we were given on the day of the first examination, it is indicated that within 8 hours before the procedure, you can not eat and drink for 6 hours. The reception was scheduled for 15.00, you need to show up in 30 minutes, another hour and a half on the road from Anapa to Novorossiysk, but the rest of the time you had to somehow survive without food and water. In order to facilitate Alice's period of forced starvation, a whole special operation was performed. Since the day before the reception, she got up at 4 am, we decided to put her to bed early, about 7 pm, so that at night she woke up, walked, ate and went to bed at 7 am, ideally slept for 5 hours, and then you can get ready. Everything went almost perfectly. At 19.00 I put her to bed, I had to try a little, but the early rise came in handy and she fell asleep. At 00.15, Alice woke up and stayed awake until 7 am, at 6.50, she ate her last meal and her grandmother put her to bed. I hoped that until 11-12 hours, she would get some sleep. All the household members were strictly instructed not to make any noise in the morning. At 10, my son and dad went to the technical school, the dog clicked his claws on the floor and Alice still woke up. In principle, 10 is also a good result. At 10.30, our dentist wrote to us, reminding us that you can not eat and drink, but for 6 and 3 hours, respectively, she allowed us to drink some tea with cookies right now. Alice does not eat cookies, so we gave her a little drink, she cheered up and until 11.30 we sat quite calmly at home. Then she began to ask to drink and eat, and since this can not be done, we decided to go for a ride, on the road Alice usually drinks and eats little.
Continuation in the second part, so as not to make the article too big.